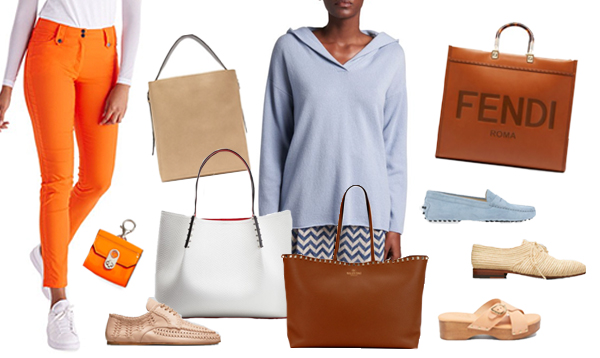 A sampling of spring trend items for 2021.
As we move into the final phase of our 2021 spring/summer trend journey, we cover categories that are dear to our hearts—shoes and bags—and, let's not forget, color.
There is a simplistic chic about all the trends this season, and that includes the shoes and bags you will see in this post. You'll also see a continuation of the more relaxed silhouettes so prevalent this season.
So, without further ado, let's check these trends out.
TREND NO. 1 – POPS OF COLOR
Regarding color, the trend predictors talked about pastel sorbet colors and timeless neutrals, and you'll see them in spades. However, you will also see some bright, bold color, so I will call this part of our trend adventure "Pops of Color."
We have highlighted before and will highlight more today in the shoe and bag portion of the blog, the rich neutral tones that I think are so sophisticated and timeless. I smile when I think back on my years of styling and hear some of my clients saying, " can't we do color?" and my acquiescing, sometimes painfully so, in my need to bring them joy through my service, in terms of that pop of color that I mostly stay away from. My take on color is to use it well and sparingly. Any of you who know me well, know I am speaking from my chic-driven heart when I say that. 
So, about those pops of color… Here you will see pieces that range from icy pastels to bold clear colors, and you will see them in all incarnations. In this color section, we will focus on pops of color rather than neutrals, so remember my counsel. Find those spectacular pieces that speak to your color-loving soul and enjoy! 

TREND NO. 2 – NEUTRAL TOTES
Neutral totes are a huge trend this spring and summer. We all know how endlessly useful they are and what a massively chic addition they are to whatever you are wearing. They are, no doubt, a timeless purchase for sure. 
A point that might help you in your search through these timeless, yummy treasures is this; even if you are a tiny person, the huge tote is still spectacular! The medium-sized totes, regardless of your size, do not play off as stunning. They seem to fall flat in their effort to be as chic as their larger counterparts. I share this so you feel free to indulge in the glorious and grandiose large tote.
With regard to color, these gorgeous neutral tones are what you want to create that show-stopping look you are after. They are sure to be a hit now and for all the years you will lovingly carry them. I, for one, am possessed by what is here, and think you will be as well!

TREND NO. 3 – TRENDING SHOES
What's new in shoes? Well, as is the case with all this season's trends, comfort is the main theme. Flat sandals are a great finishing piece to your summer look along with platforms. You will also see flat mules and loafers. What I love about all of these shoes, regardless of height, is that they are relaxed and comfortable.
Each of the categories of shoes shown here goes fabulously with the new wide leg, be it denim or pants. Most are delicious with shorts, and for sure with your joggers, as we continue to wear them in ways we never anticipated—that is, as a more serious fashion statement.
You will love the comfy chic of these styles and have fun adding any number of them to your wardrobe knowing they will provide a fresh twist to your look and come in handy for years to come. Enjoy!

WRAPPING UP THE SEASON…
I have loved the overarching theme of "comfortable chic" which is the statement of this 2021 spring/summer trend list. Everything is so easily wearable and yummy in terms of combining some new additions with what you already have in your closet. This allows you to create a new level of chic that most of us have missed in the past year. Remember, upping our game helps to build that confidence that comes when you feel like you look like a million dollars.
I know you will find some delicious, stunning pieces here to fill that confidence-building bill.  So, happy treasure hunting, and here's to an adventurous spring/summer 2021!