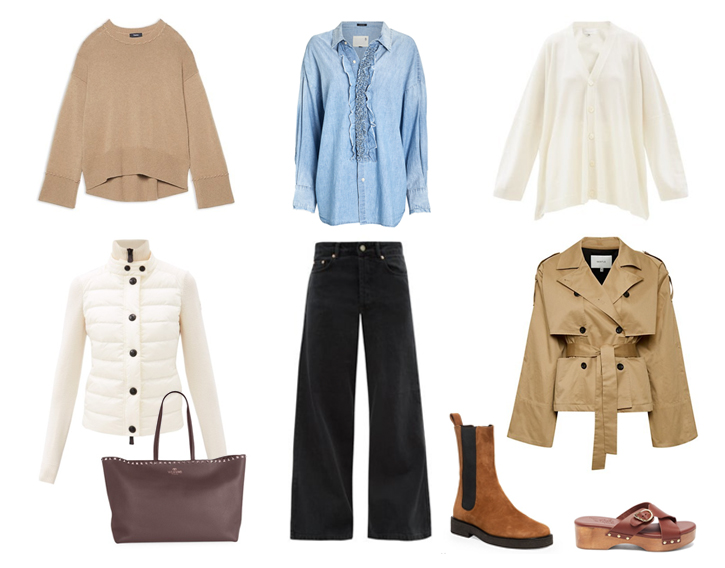 A sampling of spring trend items for 2021.
It is time once again for the spring trend list…
…which probably leaves most of us wondering where we will be in terms of our lifestyle, and asking the question, "will we emerge from our cocoon?" Still, we all want (and deserve!) some delicious new pieces and certainly welcome the idea of a new season and thoughts about how those new trends may translate into our daily living. Having said that, I believe we will emerge from our cocoons, so to speak, though I think it will be a while before that actually happens. 
A lot of the new trends that I am possessed with for Spring 2021 are styles that are more relaxed and that we can all enjoy while still sequestered. As usual, there are the pieces that are timeless and yummy, and then there are some that I feel are either not flattering or just plain unrealistic in terms of lifestyle. And here, as you know, we always focus on the timeless, flattering, and yummy.
With those things in mind, be prepared for a season of style adventure that will not only work beautifully with our quieter lifestyle but will also emerge fabulously with us as we begin to step out!
THE TRENDS – WHAT WE'RE LOVING
Following are the pieces I believe you will absolutely want to add to your wardrobe and know about.
Let's start with what we know for sure we love living in and is not a strain on our brains in terms of style; comfort sport clothes.
Of all the styles we are going to visit, this is the one we can have an easy handle on. This spring, the focus for "sport comfort" is sweatshirts, track jackets, windbreakers, and white leather sneakers. Naturally, joggers play heavily into this look.
Khaki is a timeless neutral spring trend that brings to mind a casual and understated chicness that can be found everywhere and in every conceivable incarnation. You will see it in pants and skirts as well as tops, blazers, sweaters, and more. I see this as channeling your inner French style with an understated WOW!
Comfy knits in varying tones and styles are another trend and are easy to wear and adorable. Focus on cardigans and clever ways to wear them, as this is the big knit statement.
Timeless, chic trenches are a delightful addition to everything and provide that yummy, easy, understated look we all love. With this trend, you will see gorgeous variations that make this an easy third piece that will take you everywhere… or even just the market.
The denim trend to love and own this season is the baggy wide-leg jean. The addition of this trend to your wardrobe will ensure that it is au courant with wonderful, relaxed results. And for those of you who know me, you have no doubt heard me say, this style of jean is oh-so-flattering to your backside!
The oversized button-front shirt will be a major trend to own and is a fabulous staple to be worn in so many chic ways. Again, channel your inner French style.
You will see sorbet colors and timeless neutrals. Both of these color categories scream spring and summer.
Neutral totes are a huge trend this spring and summer. We all know how endlessly useful they are and what a massively chic addition they are to whatever you are wearing. They are, no doubt, a timeless purchase for sure.
And the shoe trend? Well, as is the case with all this season's trends, comfort is the main theme. You will see slippers in the form of smoking slippers, flat mules, and loafers. Flat sandals are a great finishing piece to your summer look along with platforms. What I love about all these shoes, regardless of height, is that they are relaxed and comfortable.
In summary, the words I'd use to describe the Spring 2021 trends are simple, relaxed, endlessly chic, and comfortable. How delicious is all that?
These fun, relaxed, and chic trends will add a fresh and exciting twist to what is already in your closet. What's more, they can be worn comfortably at home and just as easily out and about when you re-emerge into the world. This is going to be a fabulous and easy season for dressing!
And because there is so much to see in terms of each trend, we are giving you a sneak peek this week with more to follow as we flesh out these yummy trends. This approach will give you a chance to see what is out there without overwhelming you.
Enjoy the preview, and we look forward to sharing the rest of the gloriousness we have found, so stay tuned. Happy shopping; you're going to love what you see!