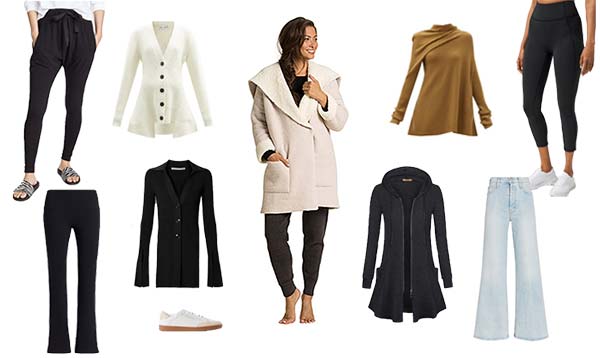 A sampling of spring trend items for 2021.
As promised, over the next couple of weeks, we're going to take a look at the Spring/Summer 2021 trends using a more manageable approach, focusing on several of the top trends for the season at a time.
I have shopped the globe to find yummy, stunning examples of each of the trends and am happy to report that all of what I've found stands alone as chic, relaxed, and easy-to-combine with the treasures you already own. I am possessed by it all and think you will be as well.
So, having said all of that, let's begin!
TREND NO. 1 – SPORT
Of the styles we are going to visit today, the "sport" trend is the one we can get an easy handle on. Sport is a trend we have all been living in for years and in concentrated amounts this past year for sure. For that reason, I love this season's focus on "sport comfort" in sweatshirts, track jackets, windbreakers, and white leather sneakers. Naturally, joggers also play heavily into this look.
When it comes to this particular trend, I believe we're talking about only needing to bring in a new piece or two after having lived in the "sport" we already owned prior to the pandemic. I love it all, and most especially, the third piece jackets that are so flattering, the flare-leg yoga pants with pockets, the hoodies, and sneakers.
We show a smattering of pieces here, and I encourage you to revisit the fitness blog from a couple of weeks ago to see even more of these yummy treasures.

TREND NO. 2 – KNITS
Comfy knits in varying hues and styles are another of the easy-to-wear and adorable trends. They come in various silhouettes, from tunic turtlenecks to cropped cardigans, and we have some truly delicious options for you.
However, this season's focus in knits is on cardigans, most especially the short cardigan, which is the big knit "statement." There are lots of clever ways to wear them, including cropped cardigans over tunic-length t-shirts or oversized button-front shirts. Keep your eye peeled for other such creative combos as you check out your fashion magazines.

TREND NO. 3 – BAGGY WIDE-LEG JEANS
The denim trend to love (and own) this season is the baggy wide-leg jean. The addition of this trend to your wardrobe will ensure that it is au courant with wonderful, relaxed results. I love this jean with flats, whether they be booties, ballet, mules, smoking slippers, Birkenstock-type sandals (including the fuzzy furry variety), and sneakers. The new cropped cardigan can be great with these jeans as well.
Those of you who know me have no doubt heard me say that this style of jean is oh-so-flattering to your backside! It, counter-intuitively, makes your backside look smaller—I swear! I so love this style of jean. Buy a few pair, as once you get wearing them you will do so for years. This is a timeless style that will bring you compliments galore.

WHAT'S NOT TO LOVE?
I am in love with the easy and yummy chic of the trends for this Spring/Summer. They are the kinds of stunning and versatile pieces that, when added to what you already own, provide you with a show-stopping approach to the season. Each of the trends we focus on and help translate for you will give you a renewed sense of fabulous style.
Shop away, have fun, and we'll see you in our next blog with a few more trends that will make your Spring/Summer look eye-popping gorgeous!