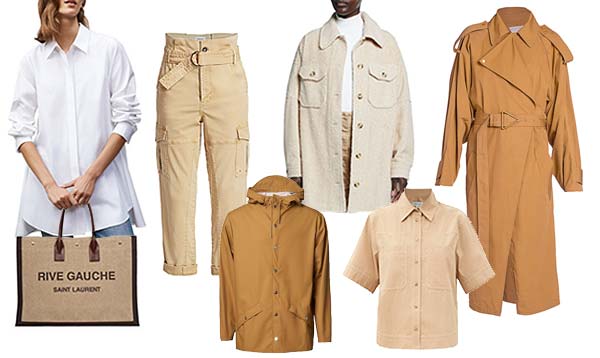 A sampling of spring trend items for 2021.
This week, as we continue our 2021 Spring/Summer Trends journey, we're going to focus on a few seriously timeless styles, each of which are considered lifetime purchases.
The style world may be calling these a trend this year, but these endlessly chic additions to your wardrobe not only pull your look together but will never go out of style. And with all that in mind, let's continue our style adventure. Remember, these looks not only work beautifully with our quieter lifestyle but will also emerge fabulously with us as we begin to step out! They'll also will work stunningly with your existing wardrobe.
TREND NO. 1 – KHAKI
Khaki is a timeless neutral spring "trend" that brings to mind a casual and understated chicness that you will see everywhere and in every conceivable incarnation. You will see it in pants and skirts as well as tops, blazers, sweaters, and more.
My favorite pairing with khaki is white. This combination represents the essence of chic spring and summer and always pops your look. Whether you do a great white crispy shirt of some kind or a simple white t or tank, you will have a stunning, winning, easy combination that translates into a show-stopping look.
To emphasize my point, I'd love to share a short story with you. A number of years ago I had the opportunity to go on a sailing trip with a few of my dearest friends. The initial part of our journey involved a ferry ride to the island where we would eventually pick up our sailboat. While most of us in our group would have preferred to fly, our first-class ferry accommodations were actually lovely, providing us with front row seats to a stunning panoramic view of some of the other islands and, of course, the beautiful blue Aegean. It also provided us with some fabulous people-watching opportunities.
At some point I began looking around the cabin to check out the other passengers—after all, "outfit watching" is an occupational hazard! While scanning the crowd, my eyes fell upon a woman who I will go to my grave swearing was French. This woman was dressed casually but stunningly chic. She wore lovely khaki shorts (dressier, not the scary, casual, grubby kind we often see on tourists) paired with a crispy white camp shirt (collared, short-sleeved, buttoned up the front). She also had on some simple and fabulous flat brown sandals with a yummy, oversized tan tote, and a large-faced watch with a brown alligator band. Wow!
The combination of the khaki and white, the simple yet chic sandals, the fabulous, oversized tan tote, and the rich-looking (although it may or may not have been expensive) watch—which, by the way, was the only jewelry I noted on her—created a stunning, unforgettable look that has stayed with me for years. Her spectacular and incredibly simple presentation is what epitomizes the concept of true chic, and her use of the khaki and white combination played a major role in this.
I hope you will use this story to channel your own understated and chic inner-French soul as you use this fabulous combination to achieve your own showstopping look!

TREND NO. 2 – TRENCHES
Timeless, chic trenches are a delightful addition to everything you put together for daily dressing and they provide that yummy, understated look we all love.
With this trend, you will see gorgeous variations that make this an easy third piece that will take you everywhere—even if just to the market! You will see stunning trench jackets, adorable Macintosh short coats, and, of course, the timeless trench coat.
Note that we show trenches in both black and khaki—the two colors you want to own for the treasure of a lifetime.

TREND NO. 3 – OVERSIZED BUTTON-FRONT SHIRTS
The oversized button-front shirt will be a major trend to own and is a fabulous staple that can be worn in so many elegant ways. Again, channel your inner-French soul as you use this wonderful, casual piece to add timeless chic to your spring/summer look.
A few perfect ways to wear this trend are popping the collar (very Audrey Hepburn), leaving your shirt mostly unbuttoned wearing a tank underneath, and even putting a low-slung leather belt with it—not at your waist but rather riding low on your hips.
White, of course, is a showstopper, and combined with khaki—or even your jeans—is fabulous. Naturally, there will be some fresh fabulous prints or stripes to consider as well. And take the oversized button-front shirt up a step and check out the shirt dress version of this crisp, lovely trend.

SUMMING IT UP…
Each of these timeless trends contains the element of understated, chic mix and match. They are perfect in that they create that sense of having a new wardrobe when you have really only added a few versatile pieces to the mix. Mind you, those pieces will up your game in terms of easy-to-put-together looks. You can maximize their use for endless stunning style statements. These fabulous trends will serve you well for years to come.
So, happy shopping and stay tuned for next week for more on the Spring 2021 Trends!