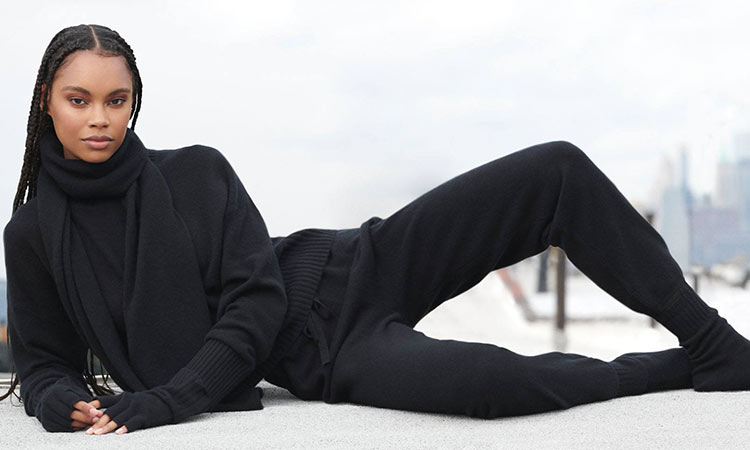 The luxe look of cashmere for less.
Many of you are probably familiar with the brand Naked Cashmere.  They say they are the finest cashmere in the world, but I really love that with their marketing strategy, they can keep their prices lower than the designer labels you find in the designer retailers we all shop.
I wanted to feature them as I am in love with the idea of cashmere for all of fall and winter this year. It is cozy, comfy, and the height of luxury. I have also loved their silhouettes from the start, and I think you will agree. They are flattering and yummy, and you're going to want to own the entire collection—or most of it anyway!
Year-round "Black Friday" Pricing
One of the important things to note about this brand is that they do not put their collections on sale…ever. For those of you who, a little like myself, love value pricing, we don't have to feel the pinch of buying at full price. Naked Cashmere's pricing strategy makes shopping a guilt-free delight.
So, when I bumped into their Black Friday Deals… I was stunned as well as intrigued. In fact, I was so intrigued that I called them to ask about Black Friday pricing as I hadn't seen any markdowns. It was an extraordinary call in a few ways because the conversation went from Black Friday to all things cashmere. I learned some interesting information about cashmere I hadn't known. As a stylist and a fan of cashmere, I truly thought I had all the facts. Apparently, I had most but not all—so stay tuned for Naked Cashmere's helpful hints for cashmere care a bit further down in the article. (Curious to read the tips now? Click here.)
Back to Black Friday Deals. As per their philosophy, there are no markdowns. Instead, they are simply offering serious deals minus the cross out of an original price. And when you see the pricing, you will understand the value of what you are receiving. And for a bit of humor, all the gorgeous pieces for Black Friday (and available now) are well… black! The irony is delicious.
Gorgeous holiday gift-giving opportunities
Check out Naked Cashmere's Black Friday deals for both their value and gorgeousness! Any one of them would make the perfect holiday gift. That said, you'd better get shopping, as these treasures are going fast!
BLACK FRIDAY DEALS

BEYOND BLACK FRIDAY…
Now that you've had a chance to view the gloriousness of Naked Cashmere's Black Friday deals, I want to focus on the pieces from their collections that I think you cannot live without.
Each piece I have chosen made the cut because of its drape and shape, the richness of its color, and in some cases, just plain practicality.
Other important information to know is that Naked Cashmere has several categories of fabrication:
100% baby cashmere (the ultimate in cashmere)
100% cashmere
Recycled cashmere
Cotton and cashmere
I love the breadth of their offerings in this yummy I-want-to-own-it-all collection.
Chic that can't be beat!
Each of these spectacular items is endlessly chic and useable. They are also perfect for luxe holiday gifting. You also may want to think about a piece or two for yourself. After all, we all know that the hallmark of a great gift is when you want it so badly you had to buy one for yourself!
COZY CASHMERE ACCESSORIES

CASHMERE ESSENTIALS YOU CAN'T LIVE WITHOUT…

Happy shopping, but before we leave you, we wanted to share the fabulous cashmere care tips that the folks at Naked Cashmere shared with me! 
Taking care of your cashmere investment:
Shedding and piling are very common for natural fibers like cashmere and cannot be avoided but can definitely be reduced. Here are a few tips we have found helpful…
Tips on avoiding/removing pilling:
Hand-wash your cashmere with cold water.
The less you wash your cashmere, the better.
Use a wool comb or sweater stone to shave off the pills. These special combs do not harm your items in any way!
Help reduce cashmere from shedding:
While it is impossible to prevent shedding altogether, you can take steps to limit the amount of fiber that ends up on other clothing. A common way to minimize the shedding of garments made from natural protein-based fibers like cashmere is to freeze them as this makes the fibers more likely to remain fixed in place. This is easily done by placing them in a Ziploc bag in your freezer for a couple of hours.