The second book in our Style Essentials Series can now be ordered in paperback as well as downloaded digitally!
I'm thrilled to share with you some exciting news; my latest book, Chic Casual Dressing: The Budget Guide, is now available for purchase in paperback on Amazon! This second book in my Style Essentials Series has been available for digital download since March and is a logical follow-up to Build Your Ultimate Wardrobe, a book focused on how to build a chic, foundational wardrobe strategically, allowing for effortless dressing for all occasions.
Why Print the Book?
I chose to format this book for print as when it comes to learning something new, I prefer a physical book to reference. I love the act of folding back page corners for quick and easy access to the information that resonates with me the most. And in this case, that information would be the style tips and basic principles of building a casual wardrobe. Digital sales have been wonderful—and for that, I am grateful—but if you're at all like me, you may be a little old-fashioned and love the feel of a physical book in your hands.
While I initially shared the digital launch of my latest addition to the Style Essentials Series in March, I thought it worth reminding you that this book is all about looking fabulous on a budget. With many years in the fashion industry, it has been my experience that casual dressing is by far the most challenging for women. Though it may seem counter-intuitive, many women struggle to create chic casual looks. Chic Casual Dressing: The Budget Guide is a solution-based manual that unlocks the secret to effortless casual dressing—and, better yet, doing it on a budget.
The Genesis of Chic Casual Dressing: The Budget Guide
After two+ years of dealing with the pandemic, we have emerged back into a world of tremendous change accompanied by a level of inflation that profoundly affects most of us. So, this was the perfect time to write about finding chic and timeless casual pieces at drastically reduced prices. Furthermore, there is a real art to shopping for discounted and inexpensive pieces that look expensive—and combining those fabulous pieces to create easy, chic, daily looks is an art in and of itself.
I have practiced this concept with my personal clients for years, so I'm well aware of the value it can bring to all who read the book.
What You Can Expect to Learn
As mentioned, the new book is all about the art of casual dressing. In it, I not only focus on helping you find the perfect silhouettes but also on where to find them at value pricing. My philosophy is this: your essential wardrobe must be made up of designer-quality investment pieces that will last for years, but your casual wardrobe can be acquired at any price point from Neiman Marcus to Target.
Since I am also a steadfast believer in fiscal responsibility, if your budget allows for designer casual clothes, go for it! If not, you can still look fabulous on a budget, and I'll show you how. The most important thing to keep in mind as you're taking in all that I am going to share with you is this—the pieces in your casual wardrobe can BE cheap; you just don't want them to LOOK cheap.
To that end, Chic, Casual Dressing: The Budget Guide might easily be the answer to all (or most) of your casual dressing fashion dilemmas. In it, you will learn all about the key pieces for chic dressing that are essential to every woman's wardrobe, options regarding what the silhouettes for those pieces look like, and my dressing philosophy regarding the categories you want to invest in and the pieces that make up those categories. You will also learn why you want to build your wardrobe around those essentials.
Learn through Example
The knowledge you will gain in terms of understanding what looks good with what will be invaluable. I've made that easy for you by illustrating various looks, so you have a sense of what pieces go well with other pieces. I'll also clarify looks and pieces for daytime casual versus evening casual, both of which require different looks for their different situations. This will ensure that you can dress with ease and always look chic, whatever the circumstance.
Along those lines, I teach you how to build your own looks, including (among other things) how to combine different styles of shoes with different types of bottoms and which bags work best for various situations. Knowing this type of information is imperative to finding your way to chic.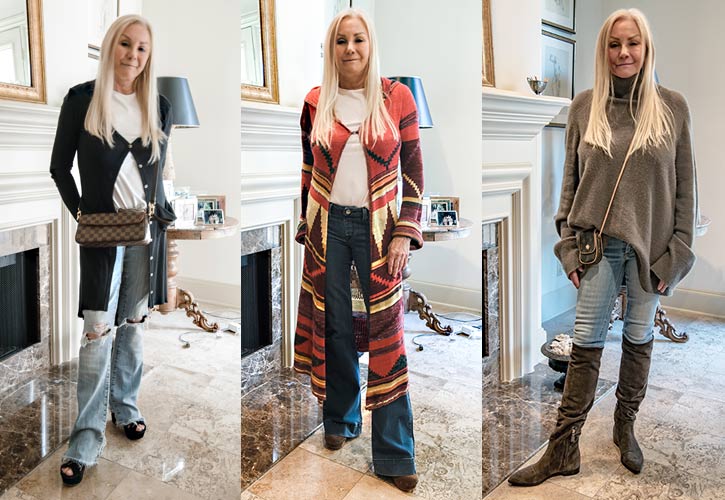 So, where do you find all these fabulous pieces at the lowest pricing?
In the book, I share my extensive knowledge with you, along with what you can expect from each of the retailers and discounters I discuss. Making the most of these price-blasting situations is key to getting the best value. And knowing what to expect and look for at the various retailers and discounters can be a bargain-hunting game-changer!
With all this in mind, I invite you to embark on the style-illuminating journey of a lifetime! You are here because you love clothes and want to look fabulous. Pay attention, and the clarity you have sought will soon be found—in spades!
Want to know more? Chic Casual Dressing: The Budget Guide can be purchased digitally for $9.99 and in paperback for $12.99 through Amazon.
Looking for the perfect gift for a style-loving friend or family member? We also have a super-chic spiral-bound hardcover available in limited quantities. Interested? Reach out to us, and we'll set you up!
Want to learn more about Bobbi's latest book and start building your own casual wardrobe?