Dress Impeccably. Be Iconic.
5 Easy Pieces to Power Up Your Chic
5 Easy Pieces is all about pulling together adorable and easy-to-combine pieces
to create fabulous, easy-to-wear looks.
Each week follows a theme, and we share five new pieces that work together within that theme, making shopping a breeze. Whether you choose from our more budget-conscious or our new elevated selections, one thing is sure—you will look fabulous!
We'll keep each theme up for four weeks (just in case you miss a week), but be sure to check them out sooner rather than later, as the pieces we love have a habit of selling out fast!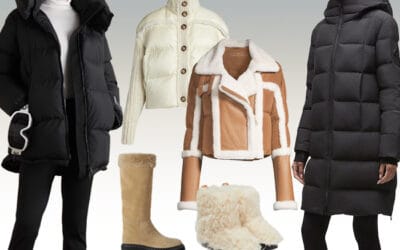 Winter has made an appearance for almost everyone, and with it comes the need for comfy, cozy, chic outerwear. The puffers, shearlings, and winter boots I've shopped for this post are all those things and will take you from a mountain resort (think après ski) to the city—in fabulous style.