"Not all who wander are lost."
–J.R.R. Tolkien
With this week's adventure, we're taking a luxurious turn.
Travel is a passion that I cannot live without. And now that life has resumed (although we're still living with COVID), the desire to get out and about is tremendous.
Like me, you may not yet be ready for international travel, hence my love of our Road Trip Adventure series. And, in truth, whether you drive or fly to your destination has no bearing on the looks I've shopped for you.
This week our focus is on the glorious beach resorts—whether they be right here in the United States or some other fabulous location. We'll take a luxurious turn as we find ourselves relaxing in style at a luxe resort. In this setting, we will want (and need) to be attired in head-to-toe fabulous chic!
Where the pool and/or beach is concerned, I'm talking simple, understated, and fabulous. This look does not involve platforms, transparent or tight-fitting cover-ups, or glitz of any variety. Channel your inner French woman, and you will have found the sweet spot for true, chic elegance for the resort or anywhere else for that matter.
Resort Chic Defined
Unlike "Beach Bum Chic" (which was addressed in last week's blog post and Fashion Friday video), everything you put on your person at a resort will be rich-looking. It may not feature the expensive price tag, but it will definitely possess the look. And if you're looking for those designer treasures, well, they abound here as well.
SWIMWEAR – One-Piece & Bikinis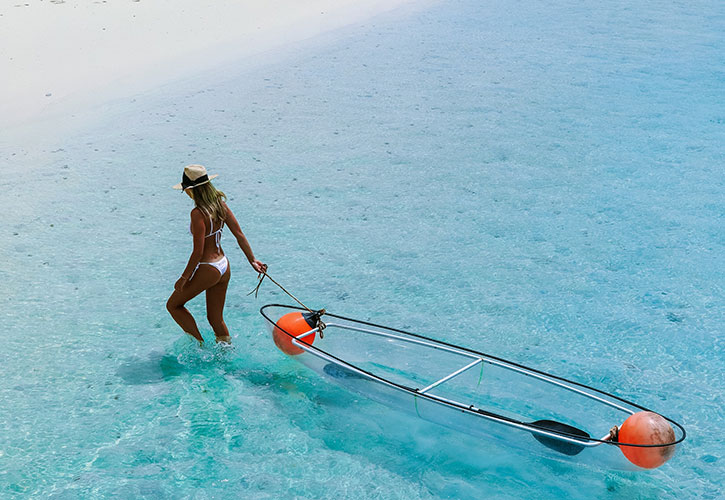 ONE PIECE
As before, we'll start with the obvious—swimwear. When it comes to the one-piece swimsuit category, I love black—although I have shopped a couple of prints and some color for you. Still, you cannot beat black for its chic factor.
A little drama can be good, so you'll want to check out some of the very 40s-era-style suits that just scream chic glam. I know you're going to love what you see!

BIKINIS
When it comes to bikini looks in a resort setting, I am a huge fan of the bandeau top. Bandeau tops are not only chic, but they flatter every bust line. And unlike what I suggested for "Beach Bum Chic," you're not going to want to mix and match tops and bottoms here at the resort—everything should match, with this one exception—black and white. You can mix black top and white bottom (or the reverse).
This combination is incredibly chic. Your tops and bottoms don't have to be by the same designer, but they do need to look like they belong together.
As far as color goes, I'll reiterate the chic and elegant simplicity of the black bikini. (For those of you who are old enough, think back to the "Bain de Soleil for the St. Tropez tan" ads of the 80s!) This is French chic at perhaps its best! There are some other fabulous options, but St. Tropez chic is my fav for the resort look!
P.S.—I have included suits in brown hues as, next to black, they are beautifully subtle and chic.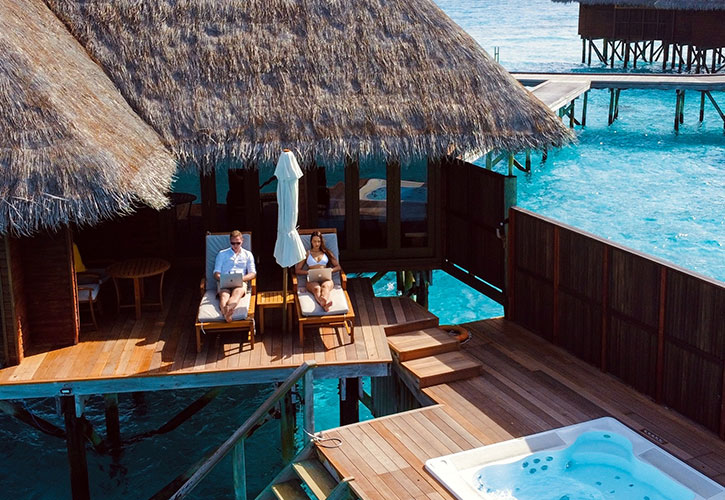 Cover-ups are a huge part of pulling this look together, the simple cover-up dress being my number one pick. And as we're talking French chic here, this look is quintessential French Riviera…think Grace Kelly.
I also love the idea of the sarong, so keep that in mind as well. Just remember your pareo needs to be cotton as opposed to something sheer, like viscose, which is a big no, no. 
I have included white tee and tank options in the shopping that you will want to wear with your sarong. Remember to tie your sarong in front with a square knot. (As a refresher, right over left then left over right and under.) Pull the sarong just below your waist to create a "V" as this slenderizes and even creates a waist if you are short of one.
The tees and tank we show can be either cropped or longer. If longer be sure to tuck it into the top of the sarong and blouse it for even more slenderizing.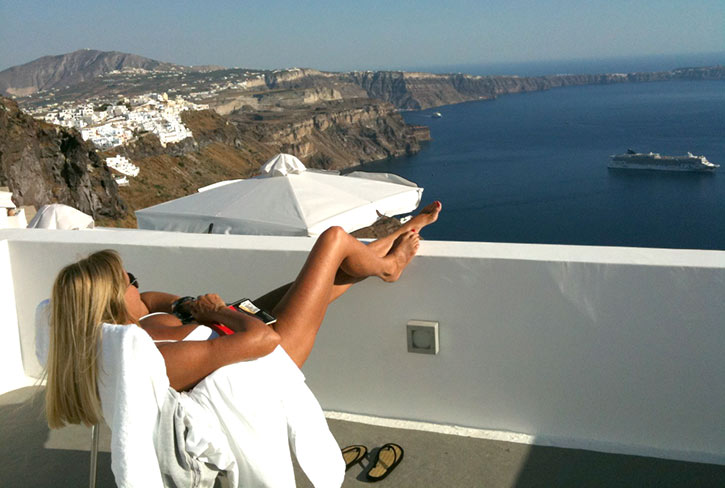 Bobbi enjoys a spectacular view from a luxury beach resort adventure in Santorini, Greece. 
Shoes, bags, and hats pull your whole look together. In fact, the simple chic of each of these items creates a polished sheen that makes you look like you just stepped off the cover of a magazine.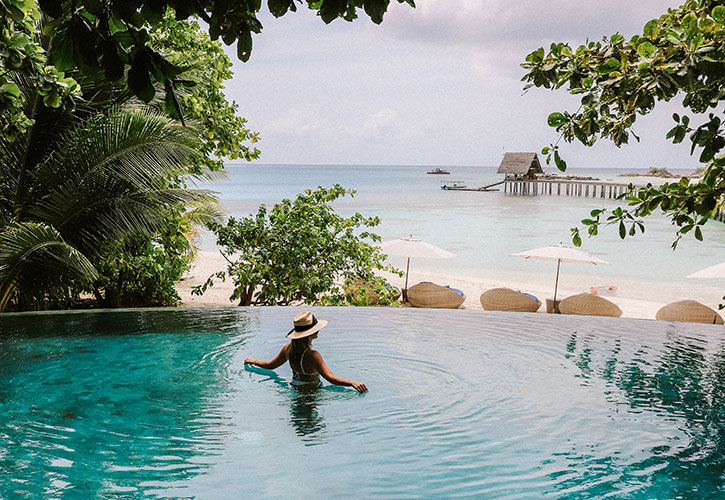 These treasures are so easy to put together for a stunning impact! Have fun in the sun on your luxe Road Trip Adventure!
We'll be sharing more ideas with you on Fashion Friday, so be sure to check us out on Facebook Live at 1 PM. And, as always, we'll we'd love for you to check us out and follow us on Instagram.
Looking for even more fabulously curated summer shopping? Check out: