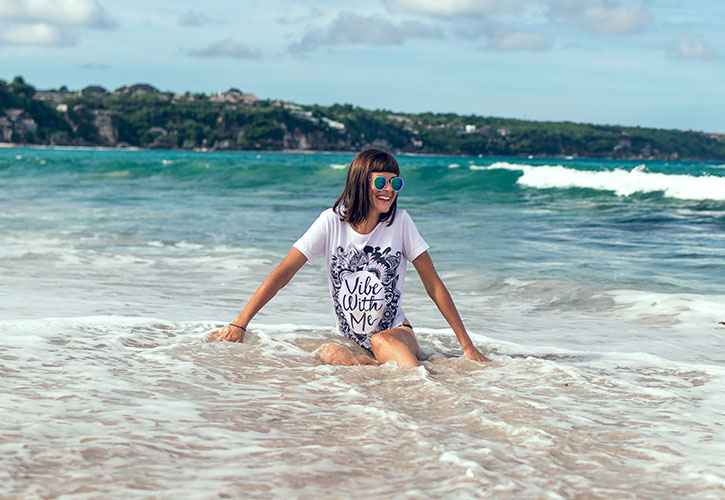 What would a summer road trip be without one that takes you to the beach? And the beach is exactly where we're headed as we continue our Road Trip Adventure series!
Beach culture in the U.S. tends to be very casual, and it has its own, specific look. This look is quite different from the "dressy chic" of beach and pool resort—a topic we will cover in our next Road Trip Adventure. For now, however, we're going to focus on casual, "beach bum chic" and the culture around it. Having grown up on the beaches of Southern California, and later, spent extended time in Hawaii, I have studied this fun way to "beach" in detail.
BEACH BUM CHIC DEFINED
There are a number of elements to consider with this style of beach dressing, but one thing to always keep in mind is that everything is relaxed. T-shirts and tank tops, cut-offs, rubber flip flops, casual shift dresses, and almost anything "hippie bohemian" work to carry off this fun and relaxed approach to casual chic "beaching."
SWIMWEAR
Let's start with the obvious—swimwear. If you are a one-piece suit wearer the simple tank suit (reminiscent of the Bay Watch days) is the way to go. This simple suit can be done in bright colors or black—and I'm loving one by Nike that I'm seeing. Speaking of which, the upshot of buying a sport suit is that they often feature great tummy tucking panels.
I also love the simple lines of Magicsuit and Miraclesuit swimwear; they are excellent in every way. The point to remember is that whatever one-piece suit you don, keep it casual, simple, and tasteful. You certainly can't go wrong with any of the suits I've shopped for you below!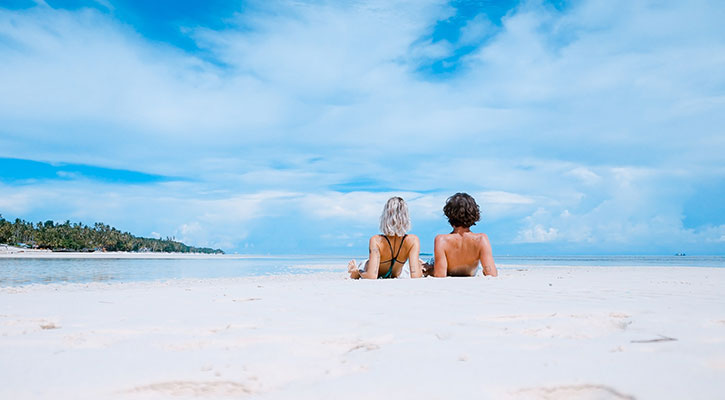 BIKINIS
When considering bikinis, you're really going to want to keep "beach bum chic" top of mind as you're putting your look together. As I have noted a number of times in past videos and blog posts, one of my favorite beach bum looks is the mixing and matching of tops and bottoms as opposed to having them match.
I am a huge fan of owning both black and white triangle tops and pairing them with coordinating (but not matching) bottoms. Another super fun look is combining a triangle top with board shorts instead of a bikini bottom. This is a particularly good duo if you are engaging in water sports or even if you're simply looking for more hip and thigh coverage. Regardless of which look you prefer, all of these "twists" to the beach bum suit are understated, relaxed, and fun!
One quick note before I move on from bikinis… I prefer triangle to bandeau tops as bandeau tops are more apt to accidentally slip off while you are frolicking in the waves. I'm all for casual, but not for over-exposure!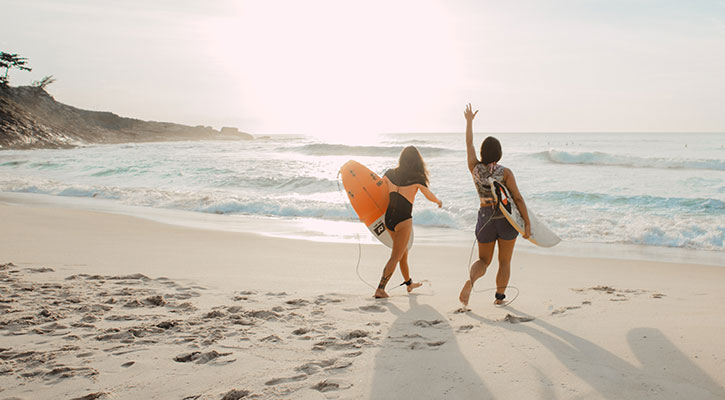 COVER-UPS
Cover-ups are another element of Beach Bum Chic that you'll want to adopt. I've already mentioned combining board shorts with bikini tops to wear for swim, but they are also fabulous to wear in terms of a cover-up. Pair them with a tank or T-shirt, and black, rubber flip flops and you are good to go in true beach bum casual style.
Let's also not forget light, flowy shifts—perfect for covering up—as are denim cut-offs which are always a winner.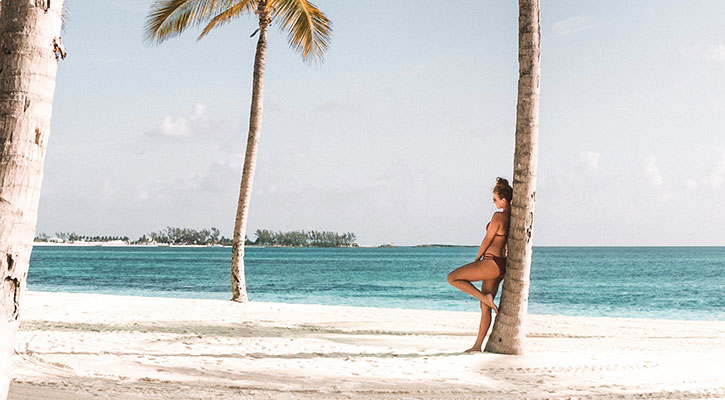 SHOES & ACCESSORIES
Shoes, bags, hats, and sunglasses are all lovely necessities for completing your beach bum look.
For shoes I have included a number of slides and flip flops as well as an espadrille and a linen sneaker. All of these options are incredible with cut-offs, however I would do flip flops with the shifts as they are more flattering to your leg when wearng a dress.
I've also shopped some casual, fun hats (a definite necessity) as well as a number of fabulous sunglasses and perfect straw totes. Everything you'll need is right here!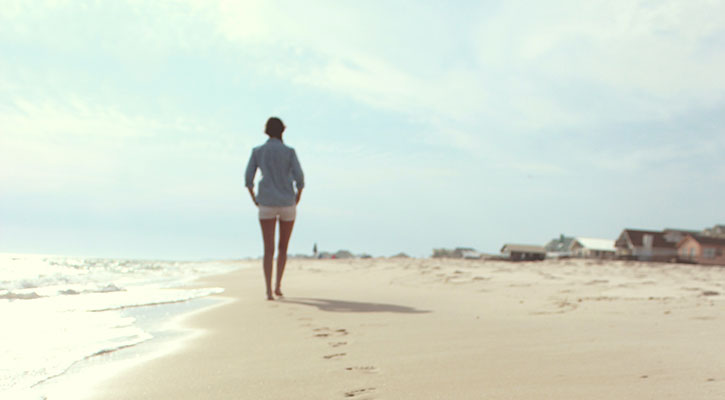 As you shop you will note that I've included a variety of price points… I wanted to make sure that there were yummy beach bum treasures for every pocketbook!
I love beautifully made, expensive things, however I'm also a firm believer in fiscal responsibility. That being said, there are lots of gorgeous inexpensive treasures to be found here. And while I always love a bargain, I want my bargains to look expensive…never cheap!
These are the perfect pieces for your beach bum road trip—all casual chic for sure! So, have fun!
Next on the Road Trip Adventure Agenda—
Beach & Pool Resort!
Be sure to check in tomorrow for MORE beachwear treasures, taking it to the next level of chic!
And this week we're sharing TWO Fashion Friday videos—one today (you'll have to forgive the fact that it's not Friday)—and one on Friday which will cover the Beach & Pool Resort Road Trip. As always we'll be sharing even more ideas with you in addition to a little show and tell! Be sure to check them out on Instagram. 
Looking for even more fabulously curated summer shopping? Check out: