The Little Black Dress, also known as the LBD, can take you to so many places…
It can be dressed up, dressed down, or worn professionally for the office. It can also be worn for lunches, weddings, the theater, dinners, and cocktails. Its versatility is what makes it a true wardrobe essential—one that every woman should invest in. And it is an investment.
The Length & Fit
Whatever your age, be sure to purchase a Little Black Dress that is an appropriate length. Remember, we're talking about wardrobe "essentials" here and are aiming for "timeless chic." That said, the length should be no higher than the top of the knee. In fact, the middle or beneath the knee is generally best, depending on the year or your height.
If you are tall, the LBD could fall mid-calf. And keep in mind that when adding the height of your pump, the length of the dress will appear shorter.
If you're older, you're going to want to pay attention to sleeves—from cap-sleeve to long-sleeve—but you know your arms. If they are stellar, show them off!
The LBD features many silhouettes, but as is always the case, be sure that your dress fits appropriately. Wearing a too-tight LBD does little more than make you look larger. It is both unflattering and tacky looking. And this, by the way, applies to all clothing.
Silhouettes
There are numerous beautiful LBD silhouettes available, but keep in mind that understated simplicity is the key to timeless chic. And the right accessories and third piece can help change your look seamlessly.
Accessories
We've talked about the versatility of the LBD, and here's where accessories can be a huge assist in that department.
For instance, a watch and pearl stud earrings work with a jacket, daytime bag, and pumps for work or a luncheon.
And if you're heading out for the evening, add a glamorous pair of earrings, a wrap, an evening bag, and after-5 pumps to convert your office look to one appropriate for cocktails or dinner.
Designers to Consider
Remember, the perfect LBD is an investment, but it's worth its weight in gold. The following design houses are responsible for some of our favorite LBD silhouettes—be sure to check them out.
• Dolce & Gabanna
• Giorgio Armani
• Armani Collezioni
• Gucci
• Prada
• Ralph Lauren
• Chanel
• Hermès
• Piazza Sempione
• The Row
• Michael Kors
Never fear, however. If you're not able to invest in designer options just yet, there are also some amazing budget-friendly options. You'll find them in the shopping below. 
Wrapping it All Up
Your essential wardrobe is not complete without a Little Black Dress of your own. Remember, if you have questions about how to style your own LBD, just let us know.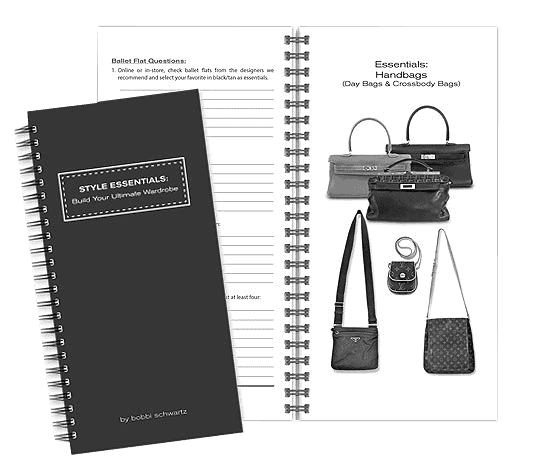 Want to learn more about building the ultimate wardrobe?
The first in our series of "Style Essential" books, Build Your Ultimate Wardrobe is a game changer. This easy-to-read manual will ensure that you will no longer stand in your closet every morning wondering what to wear. Getting dressed for the events in your life will be a whole lot easier too!