Contrary to popular belief, not all T-shirts are created equal—and in my book, only one color matters—white.
And you must have a number of them! White T-shirts are not only truly iconic, but I count them among what I consider to be wardrobe essentials. Why the emphasis on white? I'm asked that question a lot, and the answer is simple. White "pops" everything!
Regardless of what you pair a white T-shirt with, it always enhances and brings out the best in the other pieces you are wearing. I truly believe that if you happen to have a more casual lifestyle, this is probably the most defining and important "piece" you can own.
One of my favorite color combinations is white with off-white. So, if you are someone for whom off-white looks better with your complexion, a great way to be sure to employ the white/off-white combination is, for example, to wear a white tank under a cream T or the reverse of a cream tank under a white T. This two-tone combo is the ultimate in chic and you still get the impact of the white to pop your look.
Secondary to the importance of the color of the t-shirt is its neck style, shape, and length, which should vary depending on your body type and what you choose to pair it with.
I am personally a fan of the crewneck as I find it simple, clean and the chicest of choices. It also layers the best of all the necklines.
I rarely stray from crewneck tees, but when I do, my second choice is the high (and I do mean high) V-neck. For those who feel they need a lengthening through the neck or face and even minimizing a larger bustline, this can be flattering and lengthening.
SOME GREAT BRANDS TO KEEP IN MIND
Wilt has a fluted, longer-length style that flatters all body types
Vince has great fabric, and we love the styles of both their long and short-sleeve T-shirts. Be sure to check out the discounters for T-shirts from this brand and save yourself some money!
Free People always has a number of interesting silhouettes that flatter all body types.
James Perse has fabulous silhouettes with variable lengths that are great for layering.
Eileen Fisher T-shirts can be great if you have a tummy. They stand away from the body and hide the things we want to be hidden in the tummy area.
Eskandar These T-shirts are flattering and fabulous, though boxy. So, if you are a flat tummy, skinny waist person, you will want to pass on this label. If you do not fall into those categories, I suggest the cropped crewneck in a variety of sleeve lengths. You want to go shorter, but not so short that it shows your tummy.
C&C T-shirts are fabulous, slender, and flattering silhouettes.
Nordstrom Brands you'll want to consider are Rubbish and Caslon. They are less expensive but still of great quality. They are more fitted and generally flattering. These are made for juniors, so you're going to really need to SIZE UP!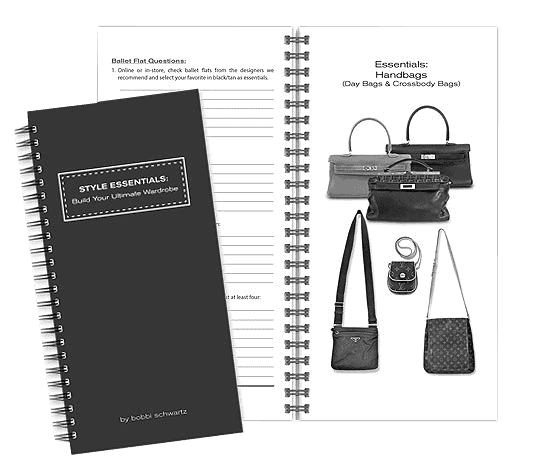 Want to learn more about building the ultimate wardrobe?
The first in our series of "Style Essential" books, Build Your Ultimate Wardrobe is a game changer. This easy-to-read manual will ensure that you will no longer stand in your closet every morning wondering what to wear. Getting dressed for the events in your life will be a whole lot easier too!