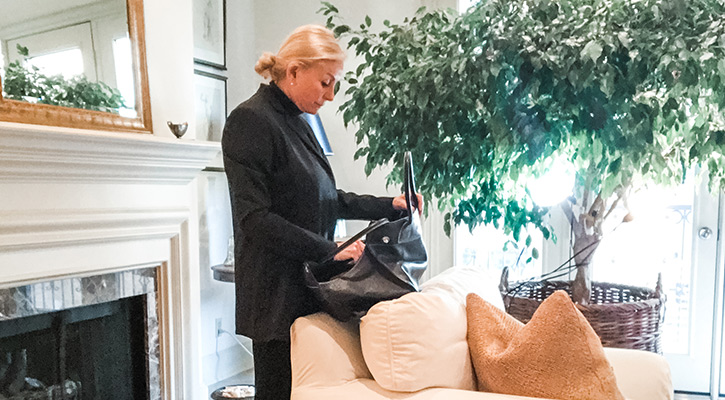 A woman's handbag is her connection to the world and a tool from which to operate all day long after leaving the house.
What we carry in our bag is critical to the ease with which we move through the day and the comfort with which we do that. We all find ourselves pulling things out of our bag numerous times throughout the day, so presenting a polished image of what we carry with us is part of a greater image. In other words, it projects a certain awareness of style and our ability to be "put together" head-to-toe. It also says something about your level of success. So… what should you carry in your bag? Here is what we recommend:
Your Wallet
Naturally, you need a wallet of some sort to carry not only your driver's license but also your credit cards and even cash. In terms of a wallet, you should have: A wallet • A coin purse

Sunglasses
Not only do your eyes need UV protection, but no one wants "squinting wrinkles" and the glare just hurts. As always I suggest a pair of aviators as they are a timeless, chic statement.

Business/Calling Card Case
If you don't have a business card from work, you still need a personal calling card. Those personal cards say a lot about you so taking the time to create the perfect card is worth the effort… Something lovely to carry those cards in is critical as well as they are part and parcel of the statement you are making when you are presenting your personal or business card to someone.

Makeup Bag
The makeup bag is critical! Ladies let's get serious—do not leave home without your makeup! The bag you're using is just as important as its contents; you'll want to purchase a great bag and one that is going to work in your handbag. It's got to make an impact and needs to hold up for a long time. Gucci and Prada are great brands to consider.

Notebook & Pen
Naturally, outside of makeup, you'll need a pen as well as a small notebook for notes when the occasion arises. For the pen, nothing can beat a Montblanc. There are a number of designer pens available but Montblanc still is the most widely recognized for its beauty and quality.

Keychain
Louis Vuitton has a great keychain with a coin purse, as well as Gucci; these are great to keep that little bit of cash, credit cards, or your driver's license in as well as keeping your keys and essentials together in one easy spot.

Hand Sanitizer & Tissues
Hand sanitizer is a no-brainer—let's keep healthy and germ-free, (especially right now!) and a pack of tissues is always good to have on hand in case of emergencies.
Handbags
Now that you know what needs to go in your bag, you might be asking the question "what bag shall I carry?"
That said, I couldn't pass up the opportunity to share some of this season's most marvelous bags! Here are some stunningly chic candidates that you're definitely going to want to check out!

To wrap up, remember that keeping your handbag tidy and neat simplifies your life, so be sure to get rid of any junk that ends up in there. Also, in order to be the epitome of "chic,"  be sure to make the investment and buy well so that you'll have your bags and accessories for years to come.
Have a good time collecting the delightful goodies that you'll enjoy carrying in your everyday bag!