Most celebrities are lucky enough to be styled in the seasons' hottest trends by their Hollywood stylists.
While we can't all live the glamorous lives of our favorite celebrities, we can certainly take inspiration from them! "Celebrity Street Style" is where we share some of our favorite looks so that you can craft your own using pieces from your own wardrobe. Coupled with Bobbi's commentary, Hollywood style can be yours!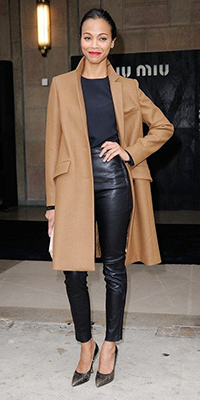 Zoe Saldana
looks fabulous in all black with the camel coat. This is simplistic, understated chic. Love the black leather pants, the exotic pointy toe pumps, the simple jewel neck black sweater, minimal jewelry… Stunning and something you could easily emulate. This is a keeper template.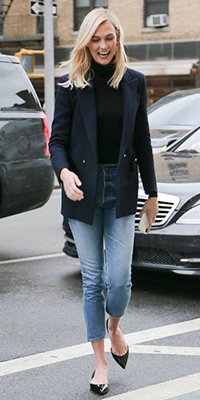 Karlie Kloss
looks adorable in her double breasted navy blazer, navy turtle neck, skinny mom-ish jeans, pointy toe black patent shoes with simple post earrings. Note that the shoes would not be cute in leather and less cute than they are in suede.  This is a super easy look to copy and use endlessly… I hope you will.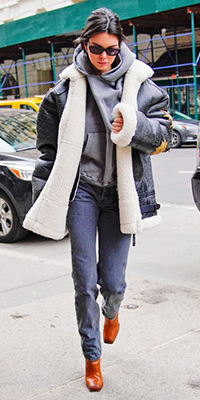 Kendall Jenner
looks fabulous in her jeans and cowboy boots, oversized shearling with a hoodie sweatshirt. The messy updo and I bet no makeup and jewelry keep this look trendy, casual and a show stopper. Lots of fun and something we can all easily do.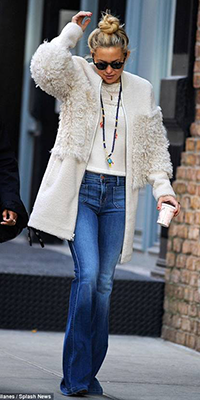 Kate Hudson
looks adorable in her winter white, flare leg jeans and messy bun. The knit jacket is the perfect flattering length.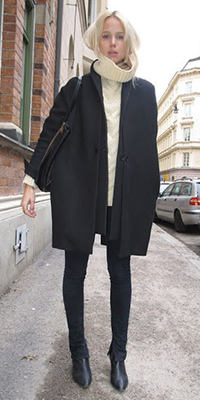 We're not sure who this is...
but we love the black with the cream longer and textured turtleneck. The longer coat over the skinny black pants or jeans pulled out over the pointy toe boots is timeless and chic beyond measure.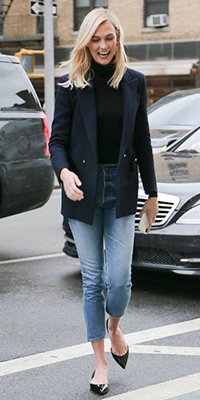 Jordan Dunn
Puffer jackets are huge this season and cozy as it turns out we all need them to say toasty. Love the black and tan combo, the black sneakers, toast colored back complimenting but not matching her jacket color….as well as the ponytail and no makeup or jewelry look to pull this casual trés chic look together.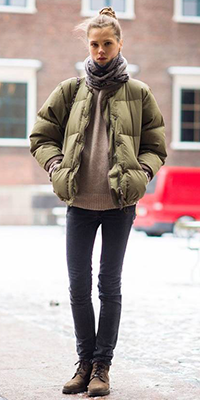 We're not sure who this is...
but we absolutely love everything about this look. The skinny jeans with the mountain boots, the combination of the camel sweater and olive green puffer jacket and the taupe scarf just give this look chic and depth… and those same colors back with the brown boots and grey jeans. The simple bun, minimal makeup and no jewelry just pull it together to create a look that causes people to stop, look and love. Great look to emulate.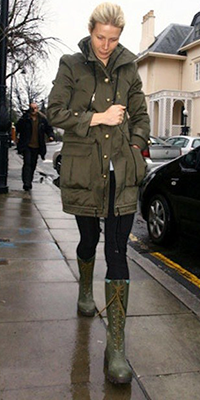 Gwyneth Paltrow
looks perfect in her leggings fab rain boots with coordination olive longer parka. Simple and incredible!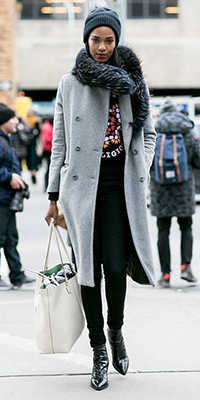 We're not sure who this is...
Again, don't know who this lovely woman is, but wow! We love the black skinny jeans over the black pointy toe boot. The great grey coat, fur scarf and beanie over the graphic tee is stunning. It takes the dressy and casual and creates a mix that is show-stopping. Naturally the white tote, minimal makeup and no jewelry pop this whole combination. This look is food for dressing thought.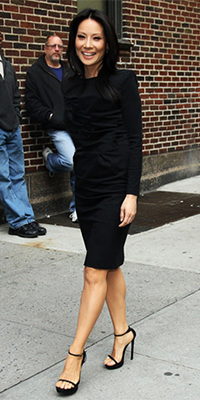 Lucy Liu
looks stunning in her simple, timeless LBD with her fabulous sandals. This is a look that can take you many places and is a show-stopper!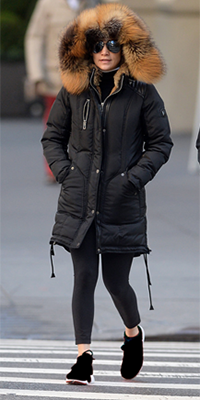 Jennifer Lopez
J Lo looks sporty and great in her look. Note the length of her puffer coat which slenderizes. A good tip to keep in mind.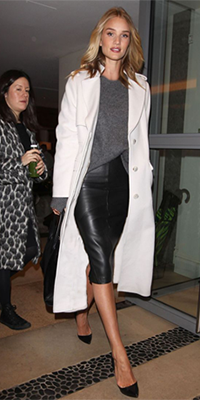 Rosie Huntington-Whiteley
knocks it out of the park with her d'Orsay pointy toe pumps, simple black pencil skirt, and simple grey cashmere sweater tucked in only yo the front of her skirt. The bloused fit of the sweater is slenderizing and forgiving. The length of the coat is perfect, and something to keep in mind when you are dressing in skirts and dresses, yout coat should ALWAYS be longer than the hem of your dress or skirt. Fabulous, timeless, and simple with maximum style punch!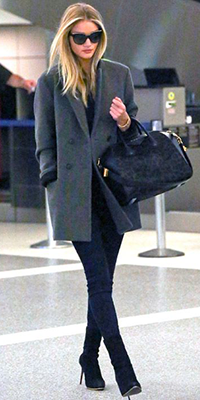 Rosie Huntington-Whiteley
looks fabulous in her double breasted jacket in a length that is flattering (slenderizing and lengthening to the body). Her pointy toe, black suede boots are a winner along with her oversized Givenchy bag. The entire look is simple and stunning.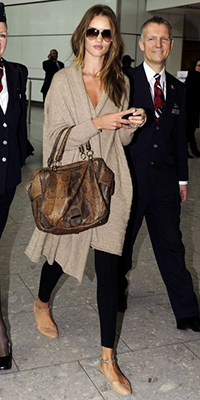 Rosie Huntington-Whiteley
looks trés chic in her black crop leggings with her sensational ankle strap ballet flat. The length of her cashmere cardigan is perfect and we love her distressed oversize bag. This is a perfect look to emulate.  The tan with the black is a fabulous combination. Again, note the lack of jewelry to keep this look simple and not an overkill which would absolutely spoil the chic.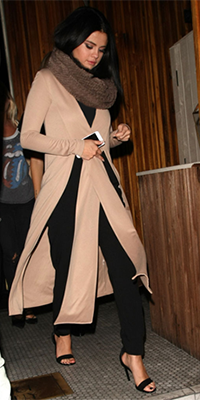 Selena Gomez
looks yummy in this camel and black look—a winning combo, along with the longer length in her coat. And the silhouette of her sandal is the most perfect and flattering silhouette of all, for your foot. Simple and timeless!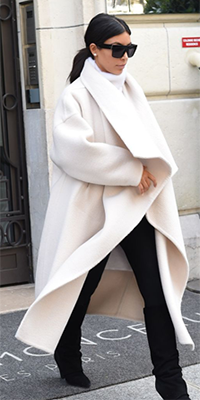 Kim Kardashian
looks stunning in her oversized, drapey, winter white cashmere coat, winter white turtleneck, and skinny black pants with pointy toe black suede boots. Yummy for sure. Note the simple earrings… This is a winning timeless look.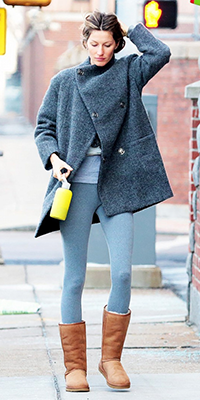 Giselle Bündchen
looks cozy, comfy and stylish in varying shades of blue and her chestnut UGGS. Her double breasted jacket is a winner as is her messy updo. Simplicity and clean lines are the key here and doing brown with the blue and never black.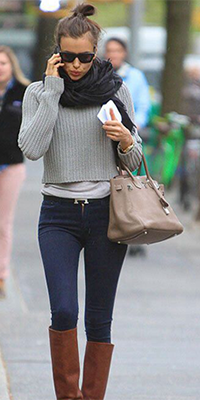 Adriana Lima
is perfect in her crop sweater with her T peeking out. The skinny jeans and riding boots are a timeless and classic look… as is her taupe Birkin bag. Mixing up the grey, taupe and brown adds depth to this look.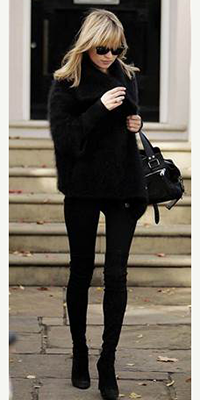 Kate Moss
is perfection in this all black look. The super skinny jeans with over-the-knee boots and a fuzzy jacket are easy and chic. The oversize bag only adds to that chic. This is an easy, show-stopping look for you unless you are not blessed with her narrow hips…then you can create this same look but with a longer jacket or tunic sweater.