Most celebrities are lucky enough to be styled in the seasons' hottest trends by their Hollywood stylists.
While we can't all live the glamorous lives of our favorite celebrities, we can certainly take inspiration from them! "Celebrity Street Style" is where we share some of our favorite looks so that you can craft your own using pieces from your own wardrobe. Coupled with Bobbi's commentary, Hollywood style can be yours!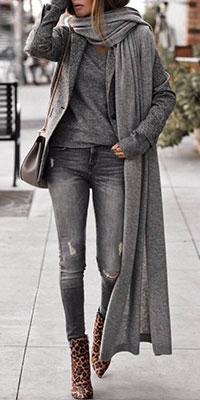 We don't know who this is...
but we were possessed by her look! Love the faded grey skinny jeans with the loose fitting grey v-neck sweater. The mélange jacket followed by the long grey cashmere scarf are all wow factors. I do love the leopard pointy toe boots as well… My one caveat is the jeans must be on the outside of the bootie. This is a no-no so please remember jeans outside booties! Otherwise I absolutely loooooove this! It's so simple and easy to emulate.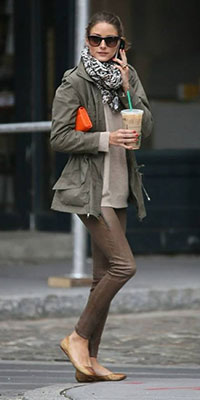 Olivia Palermo
is relaxed and chic in her brown leggings, mélange cashmere with her olive utility jacket and simple ballet flats. The combining of all these neutral tones is perfect… It creates depth and richness to the look.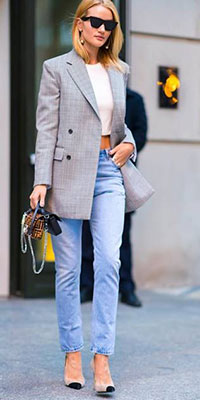 Rosie Huntington-Whiteley
is trés chic in her plaid double breasted menswear jacket, straight crop jeans and cap toe pumps. Love the Fendi crossbody.  Absolutely adorable!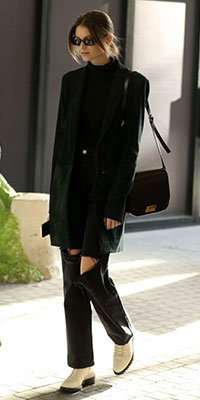 Kaia Gerber
is beyond fabulous in her all black with white sort of combat boots and shoulder bag. This is a show-stopping look for sure in its total simplicity. Copy away and watch the compliments flow.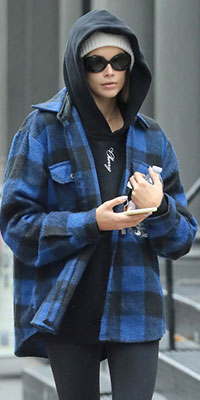 We don't know who this is...
Do you? If so please tell me—lol!  I love the all black with the black hoodie and the oversized black and blue buffalo plaid jacket. What a fun way to stay warm!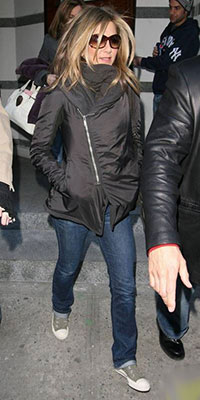 Jennifer Aniston
looks fab in this super casual look. The straight jeans cuffed at the bottom, Converse and her asymmetrical windbreaker with the black turtleneck under. Super casual and super adorable… Easy to make your own!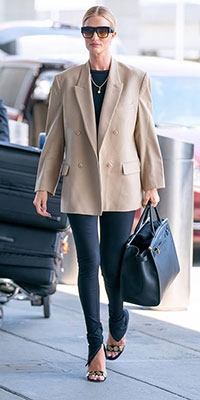 Rosie Huntington-Whiteley
is fabulous in her black zip ankle (so the become flare) leggings with adorable sandal and yummy tan double breasted menswear  blazer with black T or sweater (can't quite tell which it is). And, oh WOW on the bag. Simple and stunning. And so easy to do yourself.
Jennifer Lopez
looks so fabulously ladylike in her tweed skirt (probably Chanel and so en trend), her Chanel belt and simple off-white turtleneck sweater. Note the stark white of the skirt and the off-white of the sweater… The combo is so much richer than if they matched (a really big principle to live by).  Her pointy toe cap toe with lucite pumps are fabulous as is her small alligator ladylike tote. Again, a wonderful look to make your own for those occasions when this could come in handy… Charities, lunch, fashion show and more.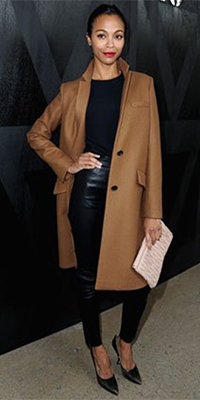 Zoe Saldana
looks stunning in her timeless look of all black paired with camel. Her cropped skinny pants and pointy toed pump pull the look together even more. This is an incredibly simple look that is a true show-stopper for you to emulate. The simple lines of every piece she has on from coat to sweater to pant to pumps is what makes this look trés chic and the absence of jewelry only cements that simplicity. Copy away my friends.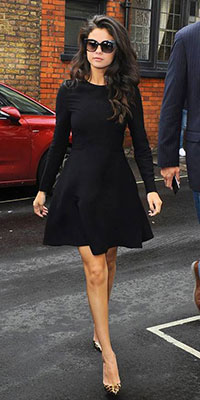 Selena Gomez
is fabulous in this simple fit and flare dress paired with pointy toe animal print pumps. The pumps add just a little extra to pop her look. Notice the absence of jewelry… It only serves to make this look even more magnificent!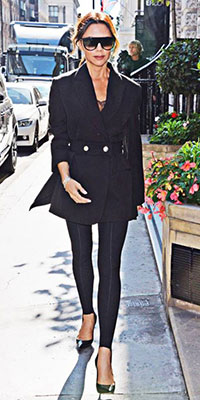 Victoria Beckham
is stunning in this fabulous longer jacket over what could be leggings, or skinny leather pants. The pointy to pumps and simplicity of her look are show-stoppers. VB knows what she is doing. The absence of jewelry except for her watch are part of the yummy statement.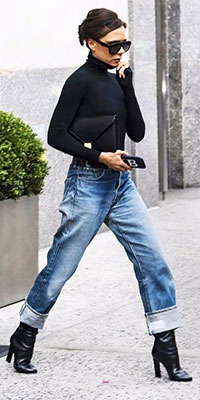 Victoria Beckham
hits the mark with this casual oh so chic look. The baggy straight leg jeans with the wide cuff over what I choose to believe are pointy toe boots with a semi chunky heel. This is my favorite trend this season! The simple fitted black turtleneck is worth its weight in gold! Please put this look down as one to create for yourself! If your figure doesn't allow for such a fitted top then find a turtleneck T or sweater that is more forgiving. You can still create this look with a more forgiving upper piece.  Again, no jewelry… It keeps it stunningly simple and affirms the casual look.  Wow, wow, and wow some more.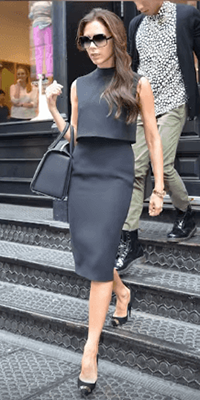 Victoria Beckham
is phenomenal in this simple grey, timeless sheath dress. The relaxed top portion of this dress allows any figure type to look sensational in this style. I love the oversized grey bag, pointy toe pumps and only the watch for jewelry. My one change I would make is I would do suede pumps in grey or burgundy to finish off the glory of this look. I encourage you to seek out this fabulous silhouette and see for yourself how glorious it is.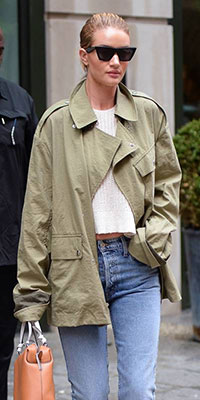 Rosie Huntington-Whiteley
is casual fun in her off white sweater, relaxed boyfriend jeans, no jewelry, fabulous rain jacket and yummy tan bag. This is a super and I do mean super easy look to make your own. I hope you will. I love the trench jacket and that worn with a white T or a simple sweater with jeans is an easy winner for sure…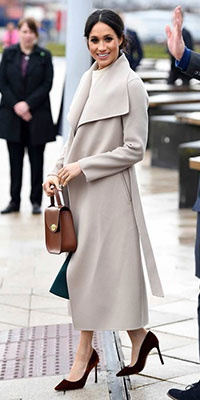 Meghan Markle
looks fabulous in her look. Note the longer length of her coat over her dress. When you buy a dress coat you always want it longer than your dress! In this day and age most people don't know that rule and it is a huge style "tell"… love the collar on her coat, her pointy toe pumps… So stunningly simple and that is the chic for sure! Notice the absence of jewelry once more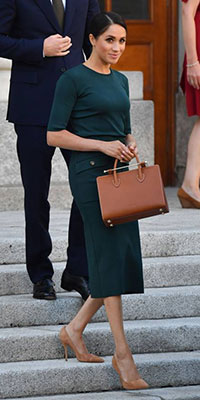 Meghan Markle
Meghan, coincidentally in the same green dress as above. This time it is paired with suede camel pointy toe pumps and a luscious structured bag.  Again no jewelry and she is beyond stunning. Simplicity is the key to chic… I promise.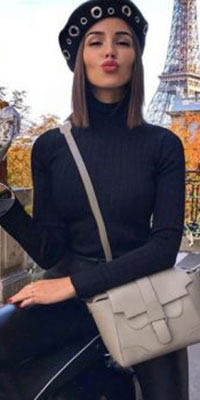 Olivia Culpo
I love this look and all the black… the turtleneck and black leather pants paired with the taupe structured bag and very fun beret! Treat yourself to checking out hats they can make a look and such fun attitude. No jewelry—just saying—and all is fabulous, simple and easy to emulate. Again, the turtleneck or whatever neckline such as a crewneck or a high v neck (not plunging) can be interchangeable to copy this look.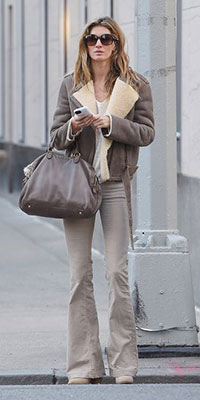 Giselle Bundchen
looks fabulous in this all-neutral look. The white t under the shearling that matches her oversized bag. Her tan cords that complement the color of the jacket and bag…and love the flare in the pant—everybody's most flattering style. The tan boots are perfect.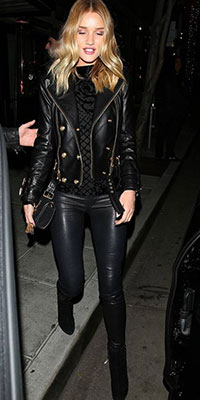 Rosie Huntington-Whiteley
is incredible in her moto leather jacket, skinny leather pants and black suede boots. The detailing on her jacket is perfect with the simplicity of the rest of her rich look. Simple and stunning. Simplicity is the wow factor!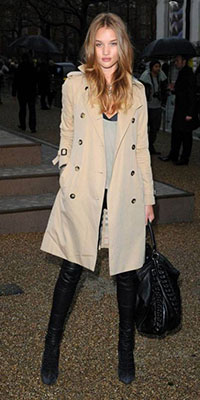 Rosie Huntington-Whiteley
Rosie again. The skinny pant with  her timeless trench are great dimensions . Love the khaki over the black. Very chic.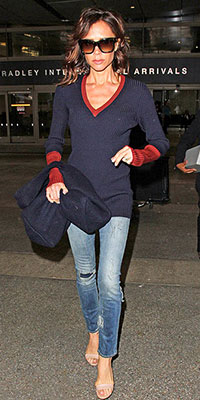 Victoria Beckham
looks fabulous in her skinny cropped distressed jeans and the yummy v neck tunic paired with the best sandal silhouette ever.  Love the color of the sandal as the nude with the rest of the look is sexy and fabulous. The nude cause them to almost blend with her skin and disappear. Again…minimal or maybe no jewelry present and it adds to the impact of the look.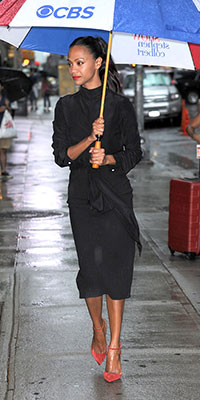 Zoe Saldana
looks gorgeous in a simple black dress with pointy toe fabulous ankle strap pumps. Simple with a little twist and it is magnificent.  Again, note the absence of jewelry. It is a major part of creating this simple timeless look that creates such a statement.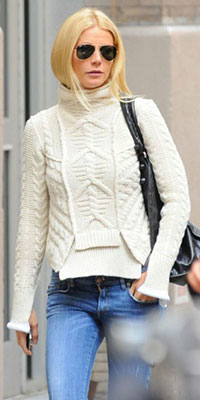 Gwyneth Paltrow
I love the winter white chunky knit sweater with the faded jeans and the timeless aviator. Simple great look.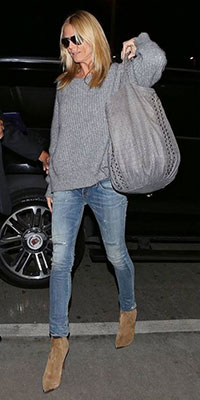 Heidi Klum
Looove the grey sweater and bag. The dimensions of both are wonderful…chunky in the sweater and huge in the bag are looks to emulate. The distressed faded skinny jean over the absolutely fabulous pointy toe tan suede ankle boot is a winner for sure. Love the entire look. This is worth copying!