Most celebrities are lucky enough to be styled in the seasons' hottest trends by their Hollywood stylists.
While we can't all live the glamorous lives of our favorite celebrities, we can certainly take inspiration from them! "Celebrity Street Style" is where we share some of our favorite looks so that you can craft your own using pieces from your own wardrobe. Coupled with Bobbi's commentary, Hollywood style can be yours!
Karlie Kloss
We love this look of all black on Karlie. The timeless oversized coat and essential black turtleneck paired with the baggy trousers and pointy toe boots are perfection. The simple, clean, pulled-back ponytail brings even more polish to this iconic look, and the lack of jewelry is fabulous. Not everyone can pull off a paper bag waist so focus on the baggy trouser which we can all wear and look stunning in
We don't know...
who this chic, fashionista is, however we love her look. The crop, baggy sweater paired with the wide leg trouser is fabulous! Simplicity is key here. No jewelry, simple hair…all stunning.
Kendall Jenner
looks iconic in her simple black turtleneck, sweats and sneakers, Wayfarer-type  sunglasses and cross-body bag…Her lack of jewelry gives the full effect of casual simplicity.
We don't know...
who this is but it is such a Bobbi Schwartz look, I couldn't pass it up. Love the converse, the baggy jacket and rolled trouser, iconic white tee shirt, messy hair, slouchy shoulder bag, no jewelry…. Love, love, love this!
We don't know...
who this is, but we love every part of her look! The layers, the crispy white shirt tail hanging out, the combo of white and off white, the crop jean with the pointy-toe, low-heeled pump, the mix of color with  the bag, shoe and scarf…. Wow! The fabulous double breasted coat worn open and the twisted neck scarf. This look is fabulous from start to finish!
Rosie Huntington-Whiteley
looks amazing in this wonderful navy and black combination. The fabulous jacket and bag really pop the skinny jeans and pointy toe boots.
Gisele Bundchen
looks seriously casual but fabulous; we love the simple clean lines here. The flare-leg yoga pants make her look longer and leaner (like she needs that). Love the jacket, which also adds to the fabulousness—as well as the longer leaner look—and also her casual pony tail and aviators.
Gisele Bundchen
looking fabulous (as per usual) in black flare-leg jeans and a yummy double breasted coat… Her chunky, grey turtleneck sweater adds a perfect pop to this look!
Karlie Kloss
We love this casual look with a wonderful punch in the form of that yummy wrap coat and turtleneck!  We also love the ever-present sneaker—and are, frankly, suffering from a bit of sneaker envy with all the different pairs she owns. Note the simple stud earring. Classic, casual chic.
Rosie Huntington-Whiteley
knocks it out of the park with her sensational simple black suiting! If you have to be professional, for any reason, this is your template! The only change I would possibly make is the belted jacket, which can cut off your height or make you look thick about the waist…otherwise, wow!!!! Love the bag, the pointy toe boots, and the lack of jewelry…Stunning!
Gigi Hadid
looks timeless in this black dress with black tights and ballet flats, paired with her grey coat and black satchel bag. Love the aviators and lack of jewelry though, I would have done pearl studs and a khaki trench coat.
Gigi Hadid
looks simply incredible in her chunky, oversized black turtleneck, rolled relaxed black pants, and white, platform sneakers. This is a look you can take to the bank in its fabulousness!! The coat is yummy and she's not wearing jewelry, which is perfect for this rich, simple, casual look.
.
Gigi Hadid
More Gigi! This time she's in yummy grey. Love the loose-fitting, shorter cashmere dress, and her suede over-the-knee-boots with her round aviators… What a hit! Totally simple and totally fabulous!
Sienna Miller
looks casual and adorable in her grey leggings, lighter grey sweatshirt, and longer, fur-trimmed parka. I would substitute her booties with Uggs, and you are good to go.
Sarah Jessica Parker
looks phenomenal in this simple, black A-line dress with her pointy toe pumps, fab bag, and simplicity. This look is a show stopper!
Iman Abdulmajid
looks hip in her flare leg jeans and the simplicity of her look.
Victoria Beckham
looks fabulous in all-white and leopard pointy toe heels. The simplicity of this timeless combo is worth emulating.
Gwyneth Paltrow
looks adorably casual in her olive puffer coat and very fun rain boots, paired with black leggings.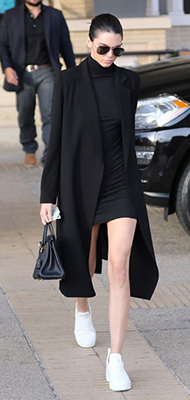 Kendall Jenner
looks fabulous in all black… the dress with the coat and then the juxtaposition of the white sneaker. I would do a white leather lace up sneaker but that is the only change. Very fun! And super easy for you to make your own.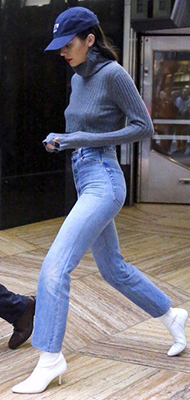 Kendall Jenner
looks adorable in her straight leg crop jeans paired with her pointy toe white boots. Love the grey cashmere ribbed t neck (a timeless classic). The pairing makes this look simple and chic. The baseball cap is just a fun addition though she probably just wore it for anonymity.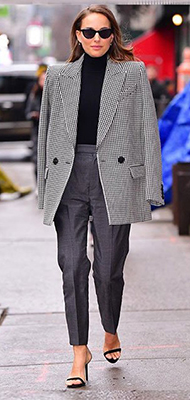 Natalie Portman
is trés chic in her charcoal narrow crop pants, black t neck sweater, checked blazer, yummy sandals (Manolo Blahnik "Chaos" or Chaos copies). The overall simple timeless chic of this look is gorgeous and an easy copy.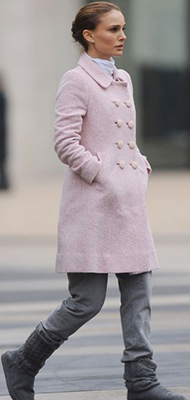 Natalie Portman
Natalie again… Love the pink slim fitting double breasted coat, white t neck combined with grey jeans and some version of UGGs.  Of course this would be sensational with menswear grey flannel wide leg pants and loafers. Incredible look.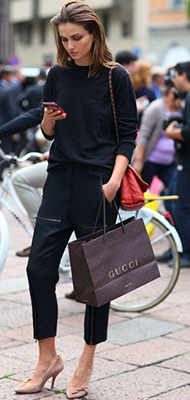 We don't know...
who this is but the wow factor is huge. The simple black cropped narrow leg pants with the black cashmere sweater, the nude suede pointy toe pumps pull this incredibly simple stunning look together… beyond easy for you to duplicate with what you have in your wardrobe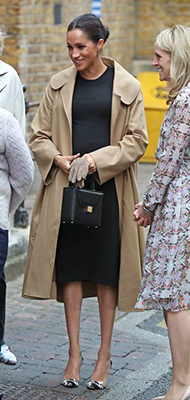 Meghan Markle
is stunning in this timeless fabulous look. The simple dress, the timeless trench, the print pointy toe pumps and the faaaaaabulous Mark Cross box satchel bag! Wow, wow, and wow some more… The simple bun and ladylike gloves are marvelous finishing touches.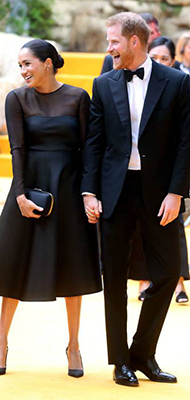 Meghan Markle & Prince Harry
We left Prince Harry in the image as a one time exception… Love Meghan's look. For those who are wanting covered arms for cocktail or black tie looks this is a showstopper. I love the absolute simplicity of this dress. The all black, of course, provides maximum chic impact. The pointy pumps, simple bag, jewelry and hair are all contributors to this stunning look. When they say the devil is in the details, that most assuredly is true in the fashion and style world. Copy away my friends.